Costa Rica Enrique Geisha Honey
lemongrass
.
green apple
.
milk chocolate
Coffee producer Enrique Romero Chacón started the small washing station Tributos del Ota Milenio in the Tarrazu region in 2017. His vision is to select and process better coffee from the family's various farms. At this particular Geisha, all the berries have had at least 20 Brix sugar when picked, which guarantees a sweet and complex coffee. The coffee has then been slowly dried in its own sugar, first in a basin, then on raised drying beds. The coffee is in constant motion, so that it dries evenly. In the coffee we find complex tones of vanilla, fresh apples, citrus and in the aroma jasmine. An extremely citrusy and in every way juicy and refreshing coffee.
THE HONEY METHOD
In the honey process, the skin of the berry is removed but part of the sugar layer is kept intact. This "mucilage", which is sweet and sticky like honey, remains on the beans as they are dried. The amount of sugar that remains during fermentation and drying, after being mechanically washed, gives different varieties of honey, from white and yellow honey, to gold, red and black honey coffee. The more sugar that remains upon drying, the more the fermentation affects the character. This particular lot is a so-called "Red Honey", where parts of the sugar have remained during drying.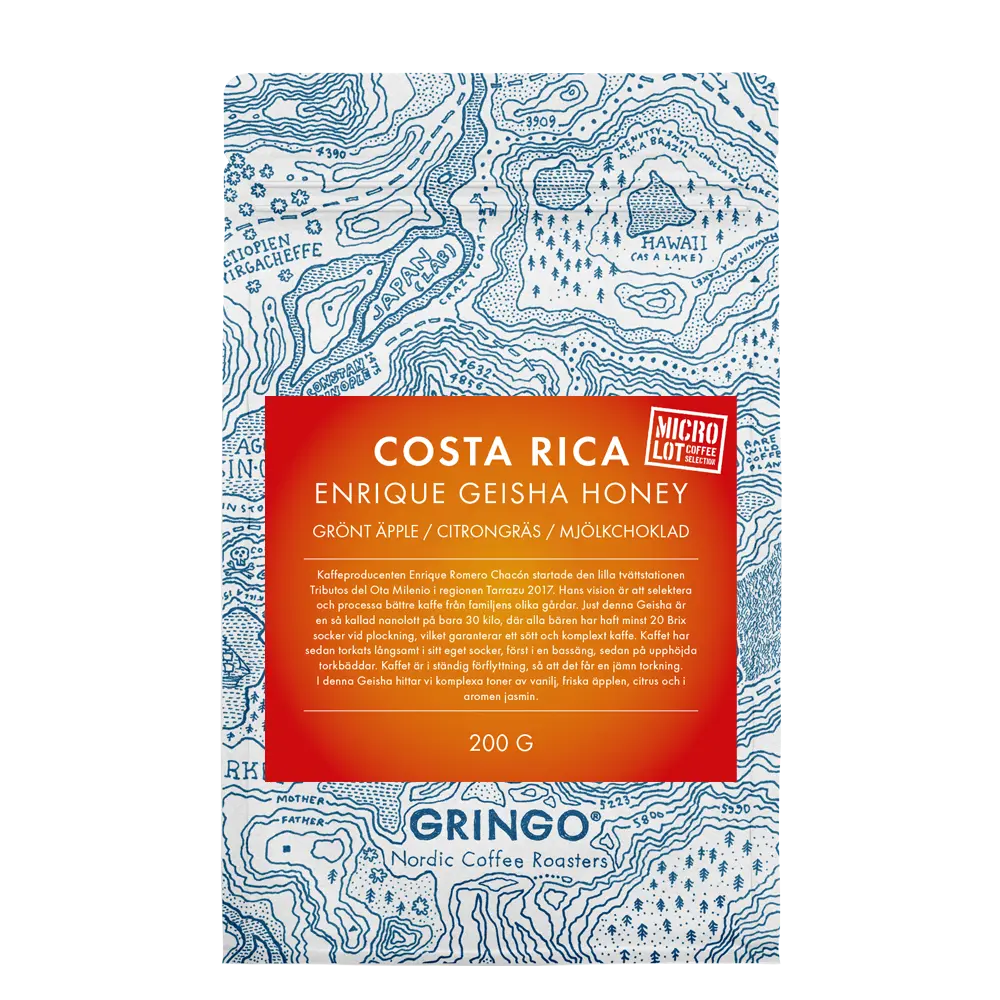 | | |
| --- | --- |
| Weight | 0,20 kg |
| Country | Costa Rica |
| Producer | Enrique Romero Chacón |
| REGION | Tarrazu |
| Altitude | 1875–2050 meter |
| Cultivar | Geisha |
| process method | White Honey |
| Drying Method | Raised drying beds |
| harvest period | February 2022 |
| Lot-size | 30 kilo |
The trick with this coffee is that you want to bring out the fine acidity when you brew, which is very juicy and refreshing. We recommend Aeropress or a V60 (total brewing time approx. 3.5 minutes, 65 grams of coffee per liter of water).
GRINGO'S TERMS OF PURCHASE