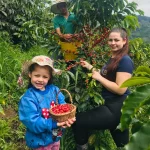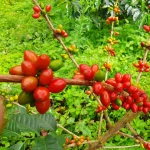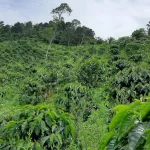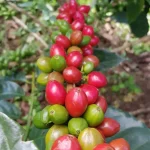 Colombia El Rubi Papayo Natural
cherry
.
Pear
.
Tropical fruit
This farm was a wedding present from the previous owner to his future wife. He named the farm after a precious stone, because what could be more beautiful than the thousands of ruby red berries that fill a coffee farm in full production. Today, the farm is run by Heiner and Johanna Lazo, who live on the farm with their three children. The couple now see the farm as their most expensive ruby and look after it with great passion and knowledge.
On the farm, they grow, among other things, this variety called papaya (named after the papaya fruit). The coffee cherries have been picked by hand when they are fully ripe and are then dried together with all their pulp and sugar on raised drying beds for up to 30 days. The result is a truly flavorful coffee with caramel, honey, sweet fruit and a truly complex elegance in character. 
​Varieten
The variety Papayo is relatively rare outside of Huila and there is not much information about how it came to Colombia.
It was originally thought to be a caturra mutation, but genetic testing by World Coffee Reseach indicates a close relationship with Ethiopian heirloom varieties.
The Coffee cherries from
Papaya are distinctive, with an elongated shape.
The name comes from its color that resembles the papaya fruit.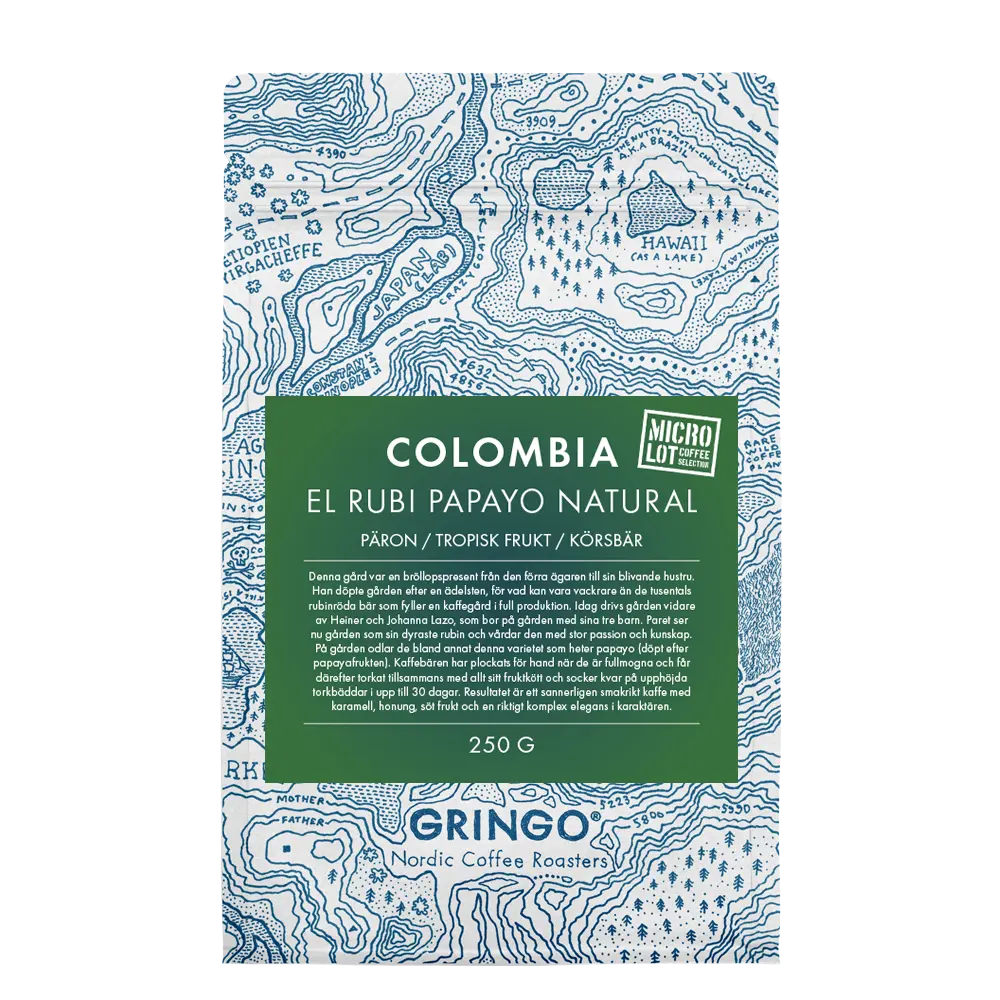 | | |
| --- | --- |
| Weight | 0.25 kg |
| Country | Colombia |
| Producer | Finca El Rubì |
| REGION | Acevedo – Huila |
| Altitude | 1600-1800 meter. |
| Cultivar | Papayo |
| process method | Traditionellt bärtorkad |
| Drying Method | Raised drying beds under UV protection  |
| harvest period | February-April 2023 |
| Lot-size | 150 kilo |
Pour Over, Aeropress, French press.
GRINGO'S TERMS OF PURCHASE